Notices on HEALTH QIGONG FORUMs at south Europe/Nordic Area/Central & Eastern Europe
Chinese Health Qigong Association will organize three Health Qigong Forums in different parts of Europe in the second half of this year.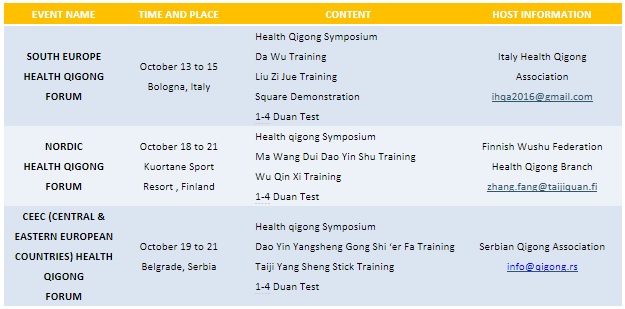 Hope to create new platforms for more European Health Qigong Fans to enjoy high-end symposium and quality training.
The following are the related detailed notices, you can read and download.
Looking forward to your participation.
Download:
1.SOUTH EUROPE HEALTH QIGONG FORUM
Annex
2.NORDIC HEALTH QIGONG FORUM
Annex
3.CEEC (CENTRAL & EASTERN EUROPEAN COUNTRIES) HEALTH QIGONG FORUM