The 3rd IHQF General Assembly Was Successfully Held
The autumn comes with invigorating climate, giving us a signal for the bumper harvest to come.
On August 14, the 3rd International Health Qigong Federation (IHQF) General Assembly was successfully held.
The General Assembly was held against the backdrop of the Covid-19 pandemic. Delegates of 89 IHQF member organizations from 50 countries and regions on five continents overcame various difficulties and realized the first global network-based communication conference.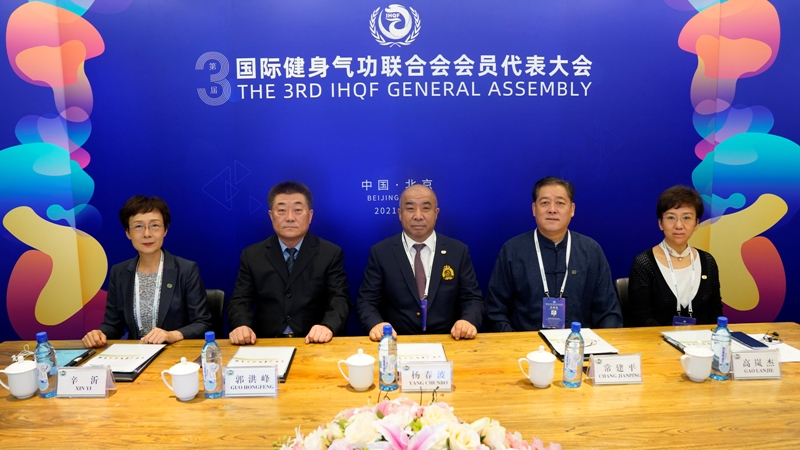 The General Assembly reviewed the work report of the second General Assembly and adopted the amendment to the IHQF Statute. CHANG Jianping, Executive Vice President and Secretary-General, delivered a report on the work of the second IHQF General Assembly. The report expounds on the remarkable achievements made by IHQF in the past five years from the following aspects: 1. Steady growth in membership; 2. Efficient and smooth operation of the governing body; 3. Steady progress in rule-setting; 4. Expand influence of brand events; 5. Initial establishment of an information platform; 6. A regular financial system in place; 7. Accelerated formation of a Health Qigong community of common health. At the same time, the report gives thoughts and proposals for the next development of IHQF.
Members of the 3rd Leaderships of IHQF were elected at the Assembly. After online secret ballot democratic voting, YANG Chunbo from Chinese Health Qigong Association was elected as the President of IHQF, and GUO Hongfeng was elected as the Executive Vice President and Secretary-General; Feng CHEN from Tai Chi Qigong Association of America, Ken LOW from Canada International Health Qigong Association, Faye YIP from British Health Qigong Association and HAN Jinsong from Tai Chi Australia were elected as Vice Presidents; GAO Lanjie from Chinese Health Qigong Association, Dhan Kwong-YONG TIT KOW from Health Qigong Association of Mauritius, Herman WANG from Health Qigong Federation UK, Pierre DE KEUKELAERE from Belgian Health Qigong Federation, KE Wen from Les Temps Du Corps, XU Hao from Italy Health Qigong Association, CHEN Xiao Ying from Health Qigong Association of Hong Kong, China Ltd, Eranga WEERASINHGHE from Sri Lanka Health Qigong Association, Sitan CHEN from Tai Chi Qigong Association of America, Marcus Vinicius FERNANDES ALVES from Brazilian Wushu Confederation and CHUNG Shun Mei from Argentine Health Qigong Association were elected as Executive Board Members of IHQF.
According to the new Executive Vice President and Secretary-General GUO Hongfeng, facing the future, IHQF will constantly improve the IHQF system with standardization and continue to improve member service. It will strengthen scientific research and promote the construction of an information platform to build an international promotion complex. It will perfect brand events to build a training system for international events. It will actively advance market development and share benefits with member organizations. IHQF will need to strengthen its own development, play a stronger leading and connecting role, unite and lead member organizations to grow and develop together, and achieve mutual benefit and win-win in a bid to usher all our endeavors onto a new stage of development.
On behalf of the 3rd Executive Board, President YANG Chunbo emphasized that the current governing body will build on past achievements and strive for new progress, strive to be worthy of IHQF members' trust and fulfill its mission. It will strive to build the IHQF into an international organization with wide influence, help all member organizations grow and develop, and push the Health Qigong cause to a new level, thus making greater contributions to building a community of common health for mankind.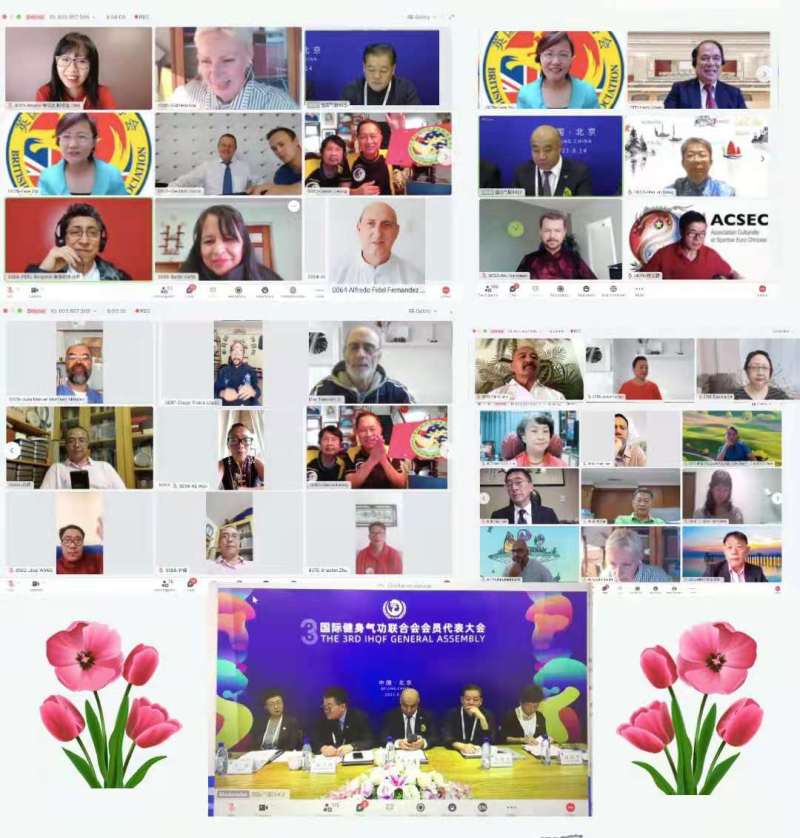 Established in September 2012, IHQF now has 105 member organizations from 54 countries and regions. IHQF has successfully organized eight sessions of World Health Qigong Tournament & Exchange, four sessions of World Health Qigong Scientific Symposium, four sessions of World Health Qigong Day and a series of regional activities. Health Qigong programs are widely welcomed and loved by people all over the world, playing an increasingly important role in helping the world fight against the pandemic and benefiting human health.